Date: 05th Sept 2019
Event: The chronology of moving into own building for Hills & Cheryl Corporate Advisory Sdn. Bhd.
4. Got our Initial Layout Plan by Jan Wong on 10th Sept 2019 where we are going to choose the most suitable for our need; so far layout 2 is the most suitable.
5. Attended Joey Yap Live Feng Shui event from 19th to 22th Sept 2019 where we self learn on how to do plotting, placement of our team and the flow of QI works in our office.
6. Appointment made with Jan Wong in finalizing the Layout 2 on 24th Sept 2019 on 11 a.m. Among the things that we had finalized:
The final layout of ground and 1st floor;
The colour combination of black, grey and white with earthly colour for the decoration parts;
The incorporation of Coffee lounge;
The positioning and flowing of QI inside the office;
The UNIFORMITY of seating;
The final 2D plan is finalized on

28th Sept 2019

with the amendment on Jazz Lounge's size :LAYOUT Final 28092019
7. Upon confirmation of the 2D plan then will proceed to 3D plan where we will be able to see the colours, furniture and the artist's impression on the office. The 3D plan will be available by 2nd week of Oct 2019.
8. Thanks to our lawyer's effectiveness (https://www.rcakl.org.my/k-h-ong-ng-10705.html), we are successfully in obtaining MB's concern on 07th Oct 2019 and the banker will release the payment to seller by Oct 2019. Sorry to inform that, we are not to disclose our MB's concern letter at the website.
9. Done submission on TNB reconnect by Alvin Lee from Prime Alarm Automation and Lembaga Air Perak (taken 2 sets of form of RM 2.00 per set) for reconnecting water meter on 09th Oct 2019.
10. Got our initial artist impression on (15th Oct 2019) how our office's design with 1st floor and ground floor where how the initial idea's look like:
11. Upon tonnes of discussion on the pricing, design, quotes and office furniture hunting, it's about time to to kick start our renovation on 11th Nov 2019:
12.  Updates that we had chosen carpet tiles and vinyl tiles on 13th Nov 2019.
13. Renovation progress at ground and Upper Floor 14th Nov 2019: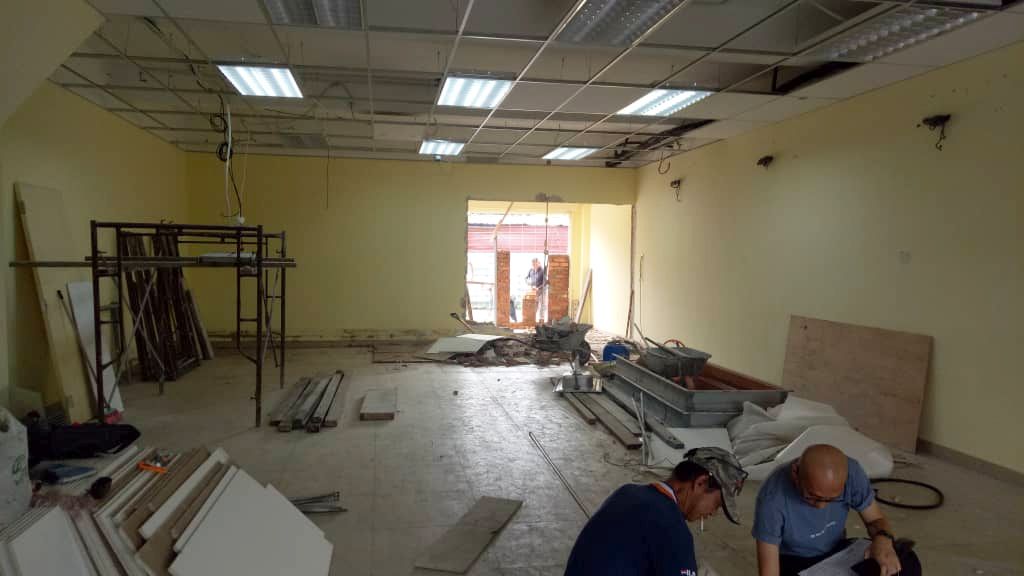 14.
15. Launching of signboard on 07th Jan 2020
16. Our opening ceremony on 02nd Feb 2020 with our guests
19. Thank you for reading on how we started our project and the ending part of our story